Hey everyone! This is my little spot on the web where I talk about all things tone. I update this *every so often*. It's mostly a collection of my DIY side projects and things I find that are cool...sprinkled in a little news and shameless self promotion. Hope you enjoy:)
Best Amp Ever Alert
---
| | | |
| --- | --- | --- |
| Fuchs TripleDrive Supreme | | |
3D Neck Coupling Design Update
---
v6.x (Production February 2014):
Design Enhancement:
Deeper neck pocket and updated surface profile. Deeper in the center, very slightly shallower on sides.
Allows use of thicker profiled necks (ala boat necks)
Thicker stock is used on the necks, so the headstock surface is lowered allowing more break angle across the nut (ala Eric Johnson Strat®) virtually eliminating string trees
The heelblock shelf is tighter to the neck profile as well as the body contour (less protrusion from body) resulting in a tighter look
v5.x (late 2012 to February 2014):
Same is v3.x with updated dimensions. 2.225" at heel and 1.650" at nut.
v4.x (No Production - experimental only):
Trying out some new ideas and mounting techniques. Mostly insert related. Wood Screws, different bolt and anchor systems, etc.
v3.x (2012 Production):
v3 was our first real production run. Standardized the pocket shape on all models (S, T, XKE, etc). Improved the connection method with custom T inserts. (At this time we also started dialing in the Progressive Asymmetric neck profiles and are very similar to the latest profiles we offer.)
v2.x (Very low production):
Our first experiment into 3D neck coupling. Very good results. Very few of these on the street as well. Different bolt types were used on each subversion. About 10 of these are in existence.
v1.x (Very low production):
Our first 2 bolt method of neck coupling. Featured a flat pocket. There are around 7 guitars out there with this construction. Started with our Rock-Rite model and moved into the standard classics.
My New Guitar!
---
Meteor Prototype #3
Glenn signing in after a long hiatus from the knowledge base (aka blog). Anyway, we rebuilt the site! YAY! Whattya think? Big thanks to Joe Buckwald and his design firm. We are still updating the pics, adding videos and media, so stay tuned.
Without further ado, my new guitar! This is our new Meteor model. I can't afford my own guitars, so one of the things I do is keep a prototype of each model. They are usually wood combinations I normally don't do, but kind of try things out and increase my "knowledge base" of what works. Lumber: Paduak top, Mahogany neck and back, Katalox fingerboard. #2 Prototype has same woods with a bloodwood fingerboard...killer, killer axe. Ask Darin @ TonicAmps. Anyway, this one is spankier and almost country, even with humbuckers. I'm thinking of messing around with some super high gain pickups in here...something hot and dark and see what happens. Here she is getting a setup and string change.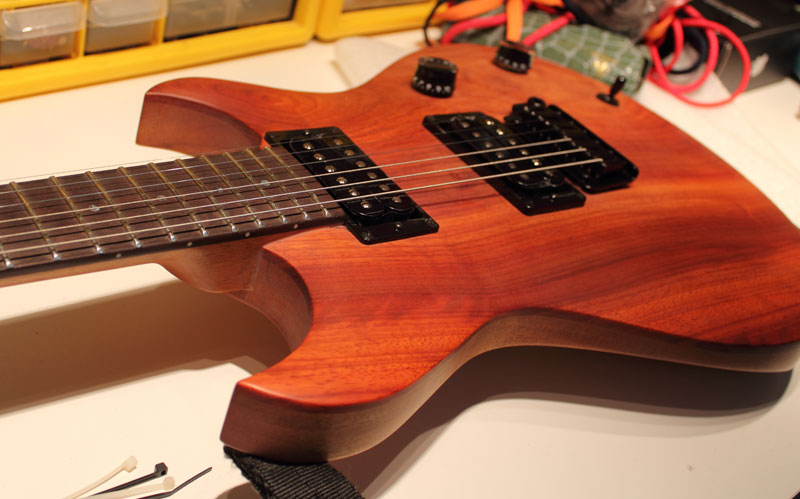 LA Amp Show - 2012
---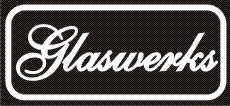 The Amp Shows are the best. If you are a guitar player, you need to check out these shows. Even better than NAMM and with such a relaxed (dare I say Party) Atmosphere, it's great fun. This year, I worked a trade with Gary over at
Glaswerks
for his Zingaro model. This amp is truly in it's own category. It makes the guitar sing, not the other way around. It's very hard to describe, but I'll tell you, another primo amp in the stable:) I'll try and get some clips up soon!
NAMM 2012
---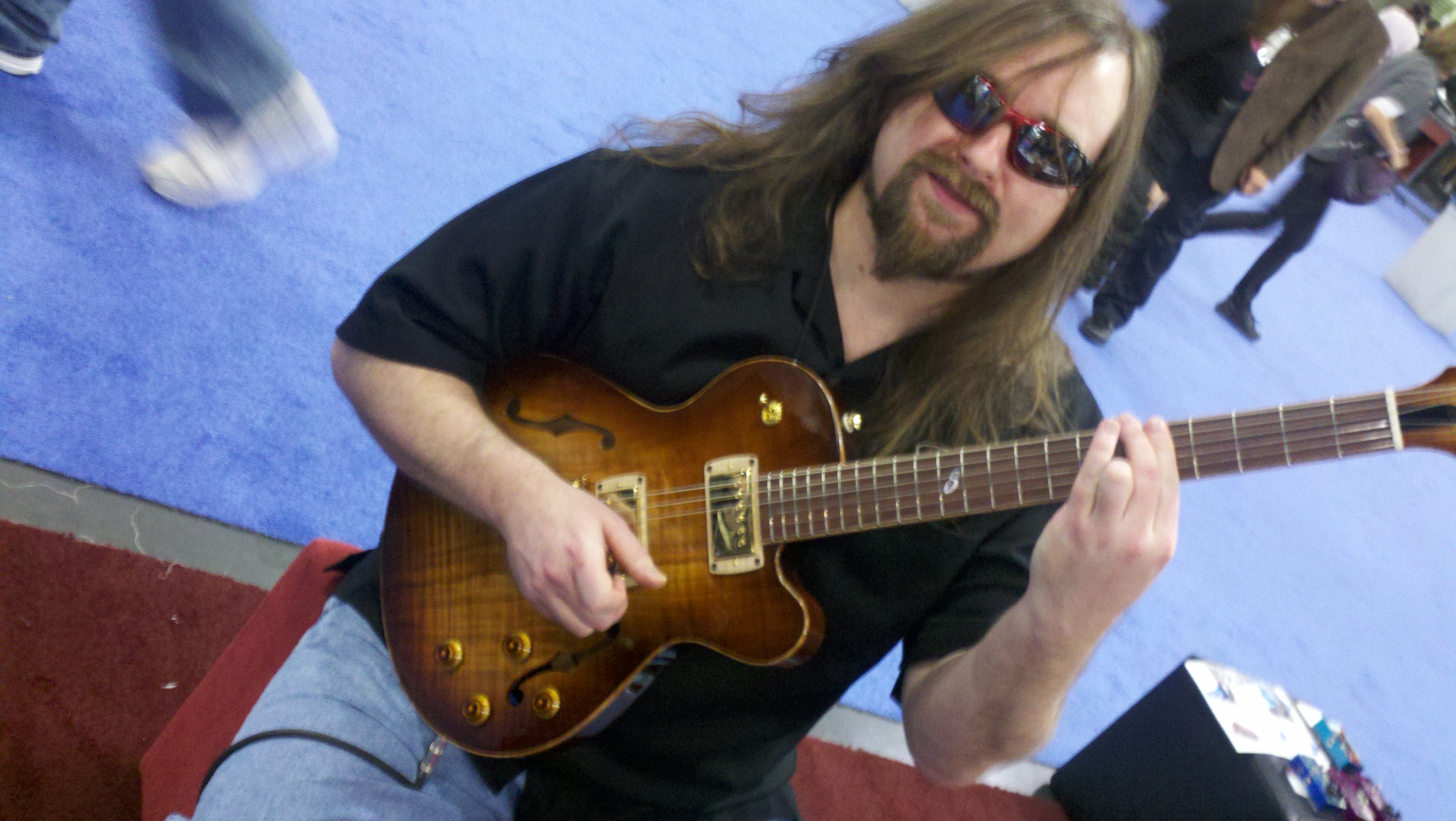 Check it out! Jay Roberts, the prodigal son of Fusion legend Howard Roberts (who has a Gibson model named after him). We are currently in the works of creating a signature model for him. Here he is checking out the new "Jazz Moderne" prototype which will be the basis of his signature axe. The difference between the Jazz Moderne and the JRsig will be a 24.625 scale length and a slim super fast neck carve. He doesn't want it to be any harder to play than it needs to be...from a guy who plays 14 gauge flat wounds.
The Jazz Moderne features a flat top. Whenever a top is carved, it creates grain run out. In these flat top models, the grain is allowed to run the full length of the top. This untraditional feature is geared more towards the amplified player looking for better sustain and note articulation which this style of construction is suited.
1/18/2011:
---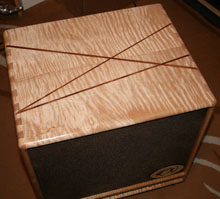 Back from NAMM where I got to hang with Kurt from
KW Cabs
. His stuff is unbelievable. If you are cork sniffing tone freak's like us, you have got to check these out. They are NIIIIICE!
His company builds cabs the way we build guitars. Here is his marketing ploy lifted from the site: "There are three styles of cabinets available from KW CABS: Standard, Special, and Custom. All three offer many shared design aspects as well as a unique look and application that will suit the most discriminating player."
http://www.kwcabs.com
LA Amp Show 2011
---
Cole doing some improvisational looping at the booth at our room at the Sweetwood Amp Show. He's a good surfer too.
NY Amp Show 2010
---
Billy Penn of 300guitars.com stopping by for a demo of the new Comet Superlite:

Best Girlfriend Award
---
Saw this in a blog: "3 years ago.. my son and I bought a Fender Stratocaster American Deluxe for my byfrnd.. It was like new.. a friend of my son's was selling it.. couldn't resist 600$Can.. with the Fender Case. My byfrnd had been telling me for 4 years that since he was young he wanted to learn.. Got a tear in his eye when he realized what was hidden under the x-mas tree. And though he does so many other things that he only practices � little every day.. his eyes still sparkle when he plays"
Austin Amp Show 2009
---
Damion Stopping by at the Austin Amp Show
Excerpts from the Austin Amp Show
---
300Guitars.com Review
---
Permalink
:
"Sharing a suite with Darin (
Tonic Amps
) was Glenn Sweetwood who is a guitar builder. It was nice to have a couple guitar builders sprinkled among the solder jockeys at the show. Glenn's guitars are really good. They are all hand made by Glenn himself. The only thing he does not do is the finish work and it's not your normal type of finish. A unique element to Glenn's guitars is that they are finished in Simtec not nitro or even poly (technically it's a polyesther). I have to admit I have never heard of Simtec before but Glenn let me compare it to a 6 month old nitro finish and the Simtec felt (gulp) better there I said it! It was as smooth as glass, super clear and not a bit sticky. I was kind of astonished. Glenn told me that the Simtec is a lot like nitro because each coat melts into the previous one like nitro but cures immediately.
The Sweetwood line has an ultra high build quality using hand selected lumber by Glenn himself. Each of his guitars hangs perfectly balanced on a strap and weighs in at about 7lb average..maybe a little less! I loved the feel of the necks which were not weeny and not overly substantial like a Nocaster. They had a just right feel to them. The Comet and Rockrite I played paired up perfectly with each of Darin's Tonic amp models.
I thought to myself as I left Darin and Glenn's suite so this is how it's going to be down here in Texas huh? A veritable tone party in each suite!! I was so up for this I was scaring my self a little bit, just a little!"
Cool Pedal Find
---
Wampler pedals
! Got a chance to check out the line up of pedals at the Austin Amp Show. Amazing stuff. I was very impressed with just about every pedal. The Plextortion sounded like a real plexi, the Faux Echo was perfect and probably my favorite...debatable. The Pinnacle was the finest Distortion I think I've ever heard and the Reverb pedal was perfect as well. Check 'em out.
Another Cool Pedal Find
---
Ibanez Super Tube STL Made in Japan!!! This is absolutely one of the finest Overdrive pedals ever made. The pinnacle of Tubescreamers.
What kind of guitar do I play
---
Someone asked me what guitar I play. I like all guitars (well, most all guitars). I generally play my own gear, because let's be honest here... My main axe is a blem that didn't make it out, nearly identical to the Surftop on the
Comet page
). I also play a Rock-Rite quite a bit when I'm reaching for the single coils. Outside of my own creations, I have a vintage reissue Strat that I dig. MIM...but a real keeper. Of course I redid the frets and electronics:) Whenever I get in the divebomb mode, I have a great Ibanez Prestige RG whatever model that has a Floyd. Until I break down and make myself a guitar with double locking, this is it. I'm a nut for 60's surf guitars. I keep an eye out for those on the used market, so ping me if you have something cool. Check my last post!!!
Cool Guitars
---
OK, anyone who knows me, knows I'm a fan of guitars (DUH). Of course I think our stuff is the best, but let's face it, guitars are cool and it's fun to play all of them for their own unique characteristics. The 60's surf era is probably my favorite and certainly one of the most unique (this is the inspiration for my Rock-Rite model). Guitars are like women, but not as much trouble;) I stumbled upon this dude's really cool page:
http://www.myrareguitars.com/1960guitars.html
. Check out all those cool Mosrites, Tiesco's, Eko's, Uni's, Airlines and Supro's. CAN YOU SAY JEALOUS!!!
Wah Mods for Crybaby and Vox types
---
Here are the
instructions
for wiring your CryBaby to true-bypass and other tone enhancements. Also removed is the buffer so you get tone purity!
Ibanez Tube King True Bypass
---
True Bypass Mod for Ibanez Tube King (TK-999)

The original Ibanez Tube King is an ideal pedal for doing a true-bypass mod. All the parts already come with the pedal and there are no PCB changes. Let's call it a 15 minute operation.
Tuning Stability
---

Sticky Nuts
If you have a sticky nut (no pun intended), and you can't find nut sauce, this stuff will do in a pinch. Finish Line Dry Teflon Lube sold in bike stores. That's right, chain lube for your bicycle. It works pretty good at first and builds over time...getting better and better. One tube of this stuff will lube your nuts for a lifetime - not to be confused with nutz;)